UNDERSTANDING THE MUSIC MINISTRY (UTMM)
UTMM or UNDERSTANDING THE MUSIC MINISTRY is a short Course for Music ministers, Gospel Artistes, Singers, Songwriters, Choristers, Musicians, Music Executives, Music ministry Leaders and for all those who are actively involved with the Music ministry. Pastors and Church Leaders are also welcome to take this Course. The pilot programme was held in November 2022 successfully, with participants from 9 Countries. There have been a myriad of testimonies from participants on how much of a difference this Course has made in their lives. We look forward to hearing yours too.
Please be informed that admissions for the 3rd Cohort of UTMM Training holding this September has officially CLOSED. You can NOW register to be on the Waiting List for the next Cohort at an exclusive discount. See link below!
This training is usually scheduled to run virtually through 4 Weekends (Saturdays Only), apart from the Introductory class and Graduation ceremony. It embodies a broad spectrum of spiritual and tacit knowledge on subject of the music ministry, highly relevant to any group of Christians. More details and a list of the Course Content is given below on this page.
COURSE CONTENT
This Course covers the following areas and more:

1.    MUSIC MINISTRY
a.    Myths & misconceptions about the Music ministry.
b.    The Music ministry in the Old Testament.
c.    The Music ministry in the New Testament.
d.    Two key aspects of the Music ministry.
e.    Defining your Calling
2.    PRAISE AND WORSHIP (1 & 2)
a.    The different kinds of songs for Church music.
b.    Defining Praise & Worship
c.    Unacceptable Praise and Worship Songs.
d.    Myths & misconceptions about Praise & Worship.
3.    MINISTRY AND INDUSTRY
a.    The history & evolution of Christian Music.
b.    Clarifying the Music ministry and industry. 
c.    Music and entertainment: Where do we draw the line?
d.    Secrets to making global impact though your music.
4.    FINANCING THE MUSIC MINISTRY
a.    Personal financing & Ministry financing
b.    How God provides for His servants.
c.    How to fund projects
5.    RAISING A STRONG MUSIC TEAM
a.    Recruiting members.
b.    Raising the right people.
c.    Avoiding/Dealing with common challenges.
d.    Conflict resolution, 
and much more...
"

It is our hope that through the knowledge gathered in this Course you will experience real transformation and impact, with distinguishing results, in your Church and Music ministry in Christ Jesus name." - David Nkennor
— UTMM (2022)
PAYMENT OPTIONS
LOCAL 
Payments (within Nigeria) can be made using Direct Bank Transfers, USSD or via the automated Payment links.
GUARANTY TRUST BANK (GTB)
WORSHIP CULTURE MUSIC - 0211657845 (NGN)
USSD: *bank_code*000*898+167997+12500#
FOREIGN
All foreign payments are charged in USD & payable through our automated payment channel below OR via transfer.
BANK NAME: GUARANTY TRUST BANK
WORSHIP CULTURE MUSIC - 0729499430 (USD)
Routing Number: 021000089  
Swift code: GTBINGLA  
Sort code: 058152751

E-PAYMENTS: Click here for secure electronic payments in any currency.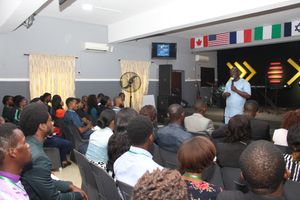 FAQs
Here are some frequently asked questions, and quick responses:
Is this Course virtual, physical or both? 
ANS: UTMM is purely virtual, so you can attend from the comfort of your home.
I'm not a Music minister, but I lead Music ministers. Can I apply? 
ANS: Yes.
What days do the classes hold, time and duration? 
ANS: Saturdays Only. 5pm-7pm GMT+1 (This works mostly for all participants from different time zones)
What's the duration of the Course? 
ANS: 4 weekends, apart from the Introductory Class and Graduation event.
What does this Course entail? 
ANS: Asides the Teaching sessions, you will be required to do weekly assignments and quizzes, engage with other participants, and complete some reading tasks.
I am not Nigerian. Can I also apply? 
ANS: If you can read this, then YES you can apply.
How about Scholarships? 
ANS: Scholarship opportunities are available to younger ministers who may be unable to afford the training at this time. Kindly fill the registration form and you will be contacted if you qualify.
We are applying as a group. Can we get a discount? 
ANS: Group discounts apply from 5 persons and above.
Will a Certificate be issued after the Course?
ANS: Everyone who completes the requirements for this program will receive an electronic Certificate of Completion.
If you have a question that isn't recorded here, kindly forward to utmmtrainings@gmail.com and we'll be glad to be of assistance. Or call: 08060100762 for help. Thank you!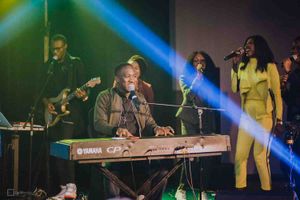 TESTIMONIALS
"This course practically helped me to answer all my troubling questions about the music ministry" - Temiloluwa, Nigeria
"Just as it is called, this training brought understanding and light. I love how scriptural background was given for everything. It was totally empowering." - Mollie Atainyang, Winnipeg Canada.
"I am so glad I enrolled for and participated in this training. I experienced a total mind shift, and my understanding of the music ministry has been stretched" - Esther, Nigeria
"The entire training was very well organized, I appreciate the warmth and receptive administration. The team was patient with us to answer all our questions and related with us in a very kind manner. The course was packed with valuable insights and knowledge that would help me become a more effective minister going forward." - Eseoghene, Ontario Canada.  
"Wow! My perspective has really been enlightened through this course. Many questions have been answered, and I am definitely better because of it. God bless Pastor David and the team!" - Deborah Amole, Lagos Nigeria
"All I can say is thank you Pastor David for saying yes to the Lord. This training was just what I needed to take what God has placed on my heart to another level." - Vashti, Abuja Nigeria.
"UTMM was an eye-opening, and insightful experience for me. I learnt so much about the music ministry, what worship is and service to God. I look forward to continuous growth in God as I practice the lessons I have learnt." - Oluwatise Oladeji, Nigeria.