THE SONG OF SONS
THE SONG OF SONS is a Worship Conference & Live Recording hosted by Minister David Nkennor. Date is Saturday, the 30th of September, 2023. It is a dynamic full-day experience, combining a blend of insightful conversations with an immersive worship experience.
This experience will feature several anointed ministers from around Nigeria. The Song of Sons (or TSOS) is an experience that you do not want to miss. Attendance for this Conference is free and open to all, but pre-registration is required. 
*View answers to more questions below.
*Attending both Conference and Concert? You can request for an ACCESS CARD to the Concert during the Conference.
REGISTER below for the Conference.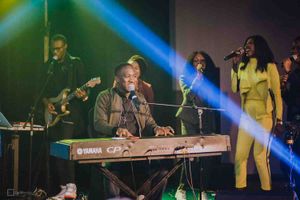 THE CONCERT
Please note that this event is FREE to attend, but you will require a ticket to get in for the Concert. Kindly download your ACCESS CARD/TICKET by registering via the link below. PARTNER TICKETS have also been provided for individuals who wish to be part of this remarkable experience in a significant way. God bless you - David Nkennor
"

The Song of Sons is not about a song or a genre of music, but about unravelling the distinctive & characteristic sound & fragrance of God's true Church... Our faith, virtues and values... most of which we find reflected in the songs that we love to sing, write and celebrate."
— David Nkennor (Covener)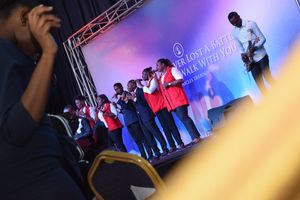 MORE FAQs
      1.     Do I have to register to attend the Conference?
ANS: Yes! Pre-registration for the Conference is advised. You may choose to register virtually or at the venue.
      2.     Is the Concert free?
ANS: The Event is absolutely FREE to attend, but you will require a ticket to get in for the Concert. Free Tickets and Other Ticket options are available for download on this page (above).
      3.     Will a seat be reserved for me after registration?
ANS: The registration portal will be closed as soon as quota is reached. There's a seat for everyone who registers. However, special seat reservations ONLY apply to the "Partner Ticket" option for the Concert. 
*Seats will be held for up to 30mins after Concert commences.
      4.     I am attending both events. Do I need to register separately?
ANS: Conference attendees may request for access cards to the Concert at the Conference.
      5.     Can I come along with my kids?
ANS: Yes, we absolutely desire that our children get to encounter God as well in this atmosphere. There'll be special seating areas for children and their Guardians. You are, however, expected to take care of your own wards.
      6.     Is there parking?
ANS: Adequate parking spaces have been provided. Kindly follow the directives of our Traffic Officers.
      7.     Will there be any refreshments?
ANS: A food court will be available for the purchase of foods and drinks.
      8.     How can I give or partner with this project?
ANS: You can give directly via the account details provided below, or call +234 806 010 0762 for more enquiries.
WORSHIP CULTURE MUSIC (GTBANK) 
0 2 1 1 6 5 7 8 4 5    NAIRA 
0 7 2 9 4 9 9 4 3 0    USD  
Routing Number: 021000089 
Swift code: GTBINGLA 
Sort code: 058152751
      9.     Will the event be streamed live?
ANS: Yes, the Conference will be live-streamed. However, the Concert will not be streamed. You can follow the Conference by subscribing to David Nkennor on Youtube. Thank you!
*For more enquiries, please send an email to worshipiswideng@gmail.com OR call  +234 806 010 0762. Thank you!
ANNUAL EVENTS & PROJECTS
Unless otherwise announced, here are a list of our periodic events (with dates) hosted by David Nkennor and the WORSHIP IS W.I.D.E ministry.
*Table is best viewed on a Computer. Using a Phone? Try viewing horizontally.
EVENT
DESCRIPTION
PERIOD

 

Worship Concert
(Expressions include Altars, The Exalted One, Come With Me etc)

 

June/July (Lagos)

Abuja/Others (As announced)

Worship meeting
Weekly (Saturdays)
Retreat

 

Bi-annual (Feb/Mar & Sept/Oct)

Worship Leader Community/Seminars
Monthly


 

Worship Leader Training

 

 

Music Ministry Training

*Suspended

 

 


Sept/Oct & Mar/Apr

Outreaches
As announced
Redefining Moments, our annual worship concert experience began in 2012. We have been witnesses to God's tangible presence in worship at each edition.
This worship experience is hosted by David Nkennor & his team, and has held in Lagos and Abuja, alongside other anointed worshippers including Nathaniel Bassey, Olufunmi, Olumide Iyun, TY Bello, Nosa, Victoria Orenze, Noella and Emeka Madubata, to mention a few.
Redefining Moments 2021 tagged THE EXALTED ONE held on the 20th of June 2021, at The FourPoints by Sheraton, Oniru Lagos; with support from our friends and partners, including Global Harvest Church, Enhance 360 Media, and IjeWorks.